 Attracted by Luye's Development Strategy and Innovation Mechanism
Dr. Wang Guangquan
VP of Biologics technology Transfer and Commercial Manufacturing (including CMO), Luye Pharma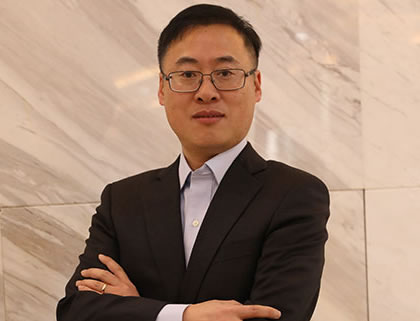 Dr. Wang Guangquan is responsible for biologics technology transfer and commercial manufacturing, participating in microsphere internationalization project and CMO new business development.

Dr. Wang Guangquan has a dual education background in engineering and management. He pursued his Ph. D. in chemical engineering at North Carolina State University and his Master degree in
Business Administration at Duke University in the United States. He was the head of Technology Operations (Manufacturing) Network Support Laboratory in Shire Pharmaceuticals. Nearly 15 years of experiences have been accumulated in the development of biological drug preparation technology, technology transfer, process validation, commercial production under GMP conditions, and the design, construction and GMP certification of production bases.

Motto: Two things define you: Your patience when you have nothing, and your attitude when you have everything.
Why did you choose Luye Pharma to work for?
What attracts me most in Luye Pharma is its global development strategy and innovation mechanism. The strategy of "global R&D, global manufacturing and global market" has laid a solid foundation for achieving the goal of becoming one of the top 50 global pharmaceutical companies by 2025. Meanwhile, Luye Pharma follows the concept of "Advanced Technologies for Better Quality of Life", with its innovation not only reflected in the forward planning of products and corresponding research and development investment, but also focusing on the innovation of the whole product value chain, such as innovation in manufacturing science and technology, excellent operation and digital intelligence of the factory. As a local corporation, Luye Pharma has promising prospects in global expansion but is also confronted with challenges. How to deal with the conflicts of corporate cultures in different countries to realize a win-win collaboration is one of them. I went to the United States for further study in 1998 and spent the next 2 decades there. I hope that I, with my experiences both in China and the U.S., will be able to help Luye Pharma drive its global development process, to become a leading global pharmaceutical company. Besides, the city of Yantai is an ideal seaside town to work and live.

What do you do in Luye? Are there anything you'd like to share with us?
I am responsible for the technology transfer and commercial manufacturing at Luye Pharma. As an emerging field in China's domestic pharmaceutical industry, biomedicine has broad prospects. But it is still in the initial stage and has a long way to go, especially in production quality management compared with western countries. Thankfully, we have a young and energetic team who are hungry for knowledge. My current work focuses on training and motivating the Luye biopharmaceutical manufacturing team, establishing the production quality management concepts and systems in line with international standards, and promoting the smooth progress of biopharmaceutical projects.

What makes you feel accomplished during work?
While engaging in the production and management of drugs, I know that every batch of products we produce and deliver will directly affect patients. I have a sense of accomplishment every time I do my job well and provide high quality products to patients in a timely manner. In addition, I am very proud and accomplished to see our team grow rapidly towards our predetermined goals and expectations every day, and attract more aspiring people who are interested in promoting the global development of Chinese biopharmaceuticals to join Luye Pharma.

What would you like to say to young graduates?
Schools and workplaces are two very different environments. Young graduates need to be prepared for the transferring of roles, or you might come a cropper, but that might not be a bad thing. For graduates, an in-depth understanding of book knowledge and smart brains may not be as important as you think; while good working attitude, win-win team spirit and the ability to keep learning will help you grow and develop in your career.