Yantai, January 10, 2023 —— Luye Pharma Group today announced that its subsidiary Boan Biotech has signed an agreement with CP Pharmaceutical Qingdao Co., Ltd. (CP Qingdao), to grant the latter the exclusive right to commercialize Denosumab Injection (Boyoubei®), a biologic for the treatment of osteoporosis, in mainland China.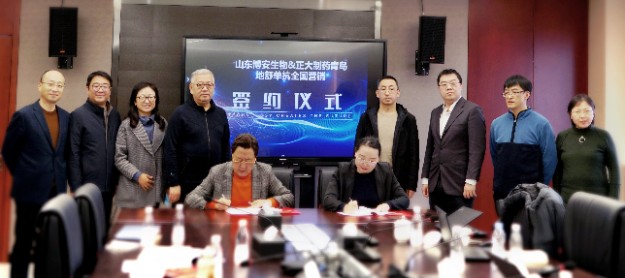 Signing Ceremony
Left: Mr. Wang Minggang, President of CP Pharmaceutical Qingdao Co., Ltd.
Right: Ms. Jiang Hua, Chairlady of the Board and CEO of Boan Biotech
Under this agreement, CP Qingdao has the exclusive right to promote Boyoubei® in mainland China. Following the signing of the agreement, performance bonds will be payable by CP Qingdao to Boan Biotech in the relevant years specified thereunder, and Boan Biotech will pay to CP Qingdao service fees during the term of the agreement. The term of the agreement is five years, upon expiry of which CP Qingdao has the first right to renew the grant of exclusive commercialization rights of this product under the same conditions.
Developed by Boan Biotech, Boyoubei® was approved for marketing in China in November 2022 for the treatment of postmenopausal women with osteoporosis at high risk for fracture. This product is the first denosumab biosimilar approved for marketing in the world. In addition to China, Boan Biotech is also developing Boyoubei® in Europe and the U.S., with plans to market the drug globally.

As a broad-spectrum osteoporosis treatment, denosumab has been validated by a lot of clinical evidence to be able to consistently increase BMD and reduce the risk of vertebral, non-vertebral and hip fractures in postmenopausal women with osteoporosis. The drug is a first-line treatment for osteoporosis recommended by multiple guidelines in China and abroad.

The development of Boyoubei® followed relevant research guidelines for biosimilars. Through a series of pharmaceutical, non-clinical, human pharmacokinetic and clinical studies, which were going up one step after another, the overall similarity of Boyoubei® with the Reference Listed Drug was scientifically, rigorously and completely validated: the two drugs are highly similar in terms of quality, safety and efficacy. Furthermore, Boyoubei® was developed following international quality standards. Making Boyoubei® available for clinical use has further increased the accessibility of denosumab, and provides a high-quality treatment option for osteoporosis patients.

CP Qingdao has a number of activated Vitamin D products, and is the largest manufacturer and provider of calcitriol (one of the most important active metabolites of Vitamin D3) in China. Vitamin D is considered one of the cornerstone treatments for osteoporosis. According to Chinese Experts' Advice on the Proper Use of Denosumab for Treating Osteoporosis, patients are recommended to take enough calcium and Vitamin D before using denosumab; and Vitamin D formulations can be used together with denosumab. Therefore, CP Qingdao's products can reciprocate with Boyoubei®, to better serve the needs of osteoporosis patients.

Talking about this partnership, Jiang Hua, Chairlady and Chief Executive Officer of Boan Biotech, said: "As the world's first denosumab biosimilar approved for marketing in the world, Boyoubei® provides a convenient, effective and economical treatment option to osteoporosis patients. Our strong partnership with CP Qingdao will put the commercialization of Boyoubei® in China on the fast track. We believe that CP Qingdao's multiple years of expertise in treating osteoporosis will help to make Boyoubei® available to many more people in need faster."

Mr. Wang Minggang, President of CP Pharmaceutical Qingdao Co., Ltd., said: "We're excited to work with Boan Biotech to make Boyoubei® available for osteoporosis patients in China. We have been working on the treatment of osteoporosis for many years with multiple products for this disease, and our key product is a market leader in this filed. Boyoubei® will form a competitive portfolio with our existing products and demonstrate a stronger synergy. We believe that our professional commercial team and extensive distribution network will help to speed up the commercialization of Boyoubei®, to really help more osteoporosis patients reduce their disease burden."

Driven by multiple factors including the huge demand of the drug from patients and its high clinical value, the market for denosumab is very promising. Publicly available information shows that the global sales of brand-named denosumab for treating osteoporosis totaled USD 3.248 billion in 2021, growing 18% year-on-year. Furthermore, according to Frost & Sullivan, the market for denosumab as an osteoporosis treatment in China is expected to reach RMB 7.8 billion by 2030.

###
About Boan Biotech

As a subsidiary of Luye Pharma Group, Boan Biotech (6955.HK) is a fully-integrated biopharmaceutical company that specializes in developing, manufacturing and commercializing therapeutic antibodies, with a focus on key therapeutic areas including oncology, autoimmune diseases, ophthalmology, and the metabolism. The company's antibody discovery is based on three technology platforms: Human Antibody Transgenic Mouse and Phage Display Technology Platform, Bispecific T-cell Engager Technology Platform and ADC Technology Platform. Boan Biotech's product portfolio currently includes two commercialized products, multiple investigational antibodies protected by international intellectual property rights, and a number of biosimilar candidates.

Boan Biotech operates across the entire value chain of the industry from antibody discovery, cell line development, upstream and downstream process development, analytical and bio-analytical method development, and technology transfer to pilot and commercial production. In addition to China, the company also conducts biopharmaceutical product development in the U.S. and EU.

About CP Qingdao

CP Qingdao is a wholly foreign-owned new high-tech pharmaceutical company invested and established by Sino Biopharmaceutical Limited (stock code:1177), which is mainly engaged in the production and sales of pharmaceuticals. CP Qingdao is China's first marine drug manufacturer, China's only national marine drug pilot test base, the national enterprise technology center, a national key high-tech enterprise, the Shandong Provincial Bone Metabolic Disease Prevention and Treatment Drug Engineering Technology Research Center, the Shandong Engineering Research Center for Innovative Marine Carbohydrate Drugs, among others. It is also the leading enterprise in the national biological industry base. CP Qingdao's self-developed and marketed national-level new drug, namely Gai San Chun (Calcitriol Soft Capsule), has ranked first in the same category for seven consecutive years.