Boan Biotech, a subsidiary of Luye Pharma Group, announced today that it has signed a Memorandum of Understanding with Merck, a world-leading science and technology company, under which the two parties agree to begin a strategic collaboration to transform Boan Biotech's factory into a next-generation digitalized manufacturing facility.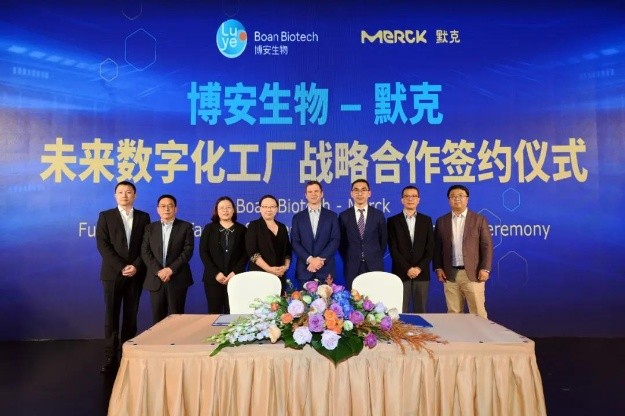 Signing Ceremony
With the continuing evolution of pharmaceutical manufacturing technology, digitalization plays an increasingly important role in the biopharmaceutical industry. Boan Biotech is accelerating its move towards next-generation production technology through the digital transformation of its factory. The company aims to achieve higher productivity, more elastic factory operations and lower production costs, while ensuring high product quality and patient safety through the creation of an intelligent manufacturing system for smarter, more flexible factory management.

To speed up this transformation, Boan Biotech has engaged Merck as a strategic partner for in-depth, comprehensive collaboration on the project, including integration of data acquisition, visualization and analysis software platform Bio4C™ ProcessPad. Both parties will also explore collaboration opportunities in areas such as the continuous antibody manufacturing process, continuous process equipment, economic culture media, cost analysis, consumable supplies forecasting (including for candidate products) and on-demand batch deliveries, among others.

Boan Biotech will be the first pharmaceutical company in China to implement Bio4C™ ProcessPad. Developed by Merck, the digital platform can facilitate continuous process management, reporting, investigation, and validation throughout the bioprocess lifecycle through data visualization, process monitoring and analysis. Employing this system, Boan Biotech will achieve greater production control through the ability to intelligently combine process data into a single integrated data source, allowing for effective data collection, aggregation and analysis, as well as boosting the efficiency of key activities such as real-time process monitoring and deviation investigation.

"Boan Biotech is committed to providing high quality innovative biologics to patients in China and around the world. Our manufacturing facility was built with state of the art design and has received regular upgrades, and the company has continuously innovated to improve production processes," said Jiang Hua, CEO of Boan Biotech. "With Merck's technology, we will be better able to build a digitized next-generation factory and realize higher productivity, increased capacity and enhanced product quality, to better serve our patients worldwide."

"Intelligent manufacturing is the future of the biopharmaceutical industry. The building of the next-generation digitalized facility will allow us to break down information islands from production modules and unlock powerful information with rapid analysis, helping to improve Boan Biotech's productivity and process economics, deepen our understanding of bioprocessing, and ensure solid product quality. In the future, with preventive maintenance and continuous, real-time bioprocess production strategy support, digital documentation and data analysis will contribute to a faster industrialization process, as well as more accurate and efficient automated control," said Dr. Wang Guangquan, Vice President of Manufacturing and Supply Chain at Boan Biotech.

"We are pleased to reach a strategic collaboration agreement with Boan Biotech, a leading biopharmaceutical company in China with full industry chain expertise, from antibody discovery to commercial scale production. We look forward to working closely with Boan Biotech to advance this digital transformation and help them achieve greater efficiency in innovation and resource allocation for high quality development," said Dr. Ian Carmichael, Vice President & Head of BioProcessing, China, Life Science business of Merck.

Committed to becoming "a world-leading innovator in biotechnology with a global footprint", Boan Biotech develops biological products in China, the US and European markets. The company has a state of the art manufacturing facility covering 25,000 square meters; new production lines and multi-story warehouses covering an additional 40,000 square meters will go into use in 2022 and 2023, respectively. All production lines are designed and built according to GMP requirements in China, the U.S. and Europe, ensuring the company's biopharmaceutical products meet global quality standards.
###
About Boan Biotech

As a subsidiary of Luye Pharma Group, Boan Biotech is a fully integrated biopharmaceutical company that specializes in therapeutic antibody development, manufacturing and commercialization with a focus on oncology, immunology, pain, and endocrine diseases. Boan Biotech's antibody discovery work is based on three technology platforms: Human Antibody Transgenic Mouse and Phage Display Technology Platform, Bispecific T-cell Engager Technology Platform and ADC Technology Platform. The company has developed more than 10 innovative antibody product candidates with international intellectual property protection, and 7 biosimilar product candidates, one of which – Boyounuo (Bevacizumab Injection) – has been launched in China.

Boan Biotech has expertise in the full industry chain: antibody generation, lead optimization, cell line development, process development, technology transfer, pilot and commercial scale production. The company is also actively exploring other cutting-edge technologies. Outside of China, Boan Biotech also pursues biopharmaceutical products development in the US and EU markets.

About Merck

Merck, a leading science and technology company, operates across healthcare, life science and electronics. Around 58,000 employees work to make a positive difference to millions of people's lives every day by creating more joyful and sustainable ways to live. From advancing gene editing technologies and discovering unique ways to treat the most challenging diseases to enabling the intelligence of devices – the company is everywhere. In 2020, Merck generated sales of € 17.5 billion in 66 countries.

Scientific exploration and responsible entrepreneurship have been key to Merck's technological and scientific advances. This is how Merck has thrived since its founding in 1668. The founding family remains the majority owner of the publicly listed company. Merck holds the global rights to the Merck name and brand. The only exceptions are the United States and Canada, where the business sectors of Merck operate as EMD Serono in healthcare, MilliporeSigma in life science, and EMD Electronics.