December 1, 2019, Luye Pharma Group has announced the acquisition of Shandong Boan Biological Technology Co. Ltd. (Boan), accelerating its global strategy in the field of biopharmaceuticals. After the acquisition, Luye Pharma will possess a series of assets from Boan comprising the entire product pipeline, antibody screening platform, antibody manufacturing platform and related intellectual property, among others, establishing a complete industry chain covering R&D, manufacturing and commercialization in the biopharmaceutical arena. According to the agreement, the payment will be made in several stages.
Boan is an integrated biopharmaceutical company specializing in therapeutic antibody development including biosimilar and innovative biologic products, with a focus on oncology, central nervous system, diabetes and immune disease. With strong R&D capabilities and advanced technologies along the whole industrial chain, Boan is at the forefront of macromolecule drug development in China. Over the past few years, Boan has developed expertise in antibody generation and lead optimization, cell line development and process development, pilot scale production and commercial manufacturing. Boan also possesses human antibody transgenic mouse technology, phage display technology and nanobody platform. In additional to China, the company is also engaged in biologic product development in the U.S. and the European Union markets.
The acquisition of Boan will speed the growth of Luye Pharma's business and product portfolio, aiding in the company's ultimate objective to become a global leading pharmaceutical company. With Luye Pharma's innovative formulation Risperidone Extended-Release Microspheres for Injection (LY03004) entering into the NDA (New Drug Application) stage in the U.S. and a number of other pipeline investigational drugs in late clinical trials phases, the company is working on achieving the next stage of its strategic goals. In addition to continuously working on the development of the company's signature novel drug delivery platforms, Luye Pharma is also undergoing a technology transformation and upgrade, and actively developing innovative biological antibodies, cell therapies and gene therapies, among others.
Strategic planning for biopharmaceuticals
Biopharmaceuticals represent one of the fastest growing and most innovative sub-segments in the pharmaceutical sector today. According to public sources, the size of the global biopharmaceutical market is estimated to be at US$228 billion in 2019, and is expected to further increase to US$323 billion in 2023, representing a CAGR of 7% during this period. Driven by huge unmet needs, growing R&D investment, major breakthroughs in biotechnology and favorable policies, biopharmaceuticals are expected to see continued growth in the future.
This rapid development also comes with high barriers to market entry. Pharmaceutical companies face a number of challenges when stepping into this arena, including intensive knowledge and skills consolidation, an 8-10 year complex development process, hard to replicate technology, challenging manufacturing and supply chain management, heavy capital investment and stringent regulations.
Luye Pharma has identified biopharmaceuticals as a key, untapped opportunity for further growth in the coming years, with the company able to further accelerate its growth and penetration in this field following the acquisition of Boan. Boan, along with its development in biosimilar and innovative biological products, quality global clinical R&D and commercialization assets, will play a significant role in Luye Pharma's biopharmaceutical strategy.
Expanding range of product offerings, creating new opportunities for business growth
Boan possesses a strong product pipeline covering several research and development stages. This includes a combination of biosimilars, which have relatively fewer clinical risks due to their proven targets and mechanisms, and innovative drugs, which have the potential to be first-in-class and/or best-in-class in their respective product and/or indication categories.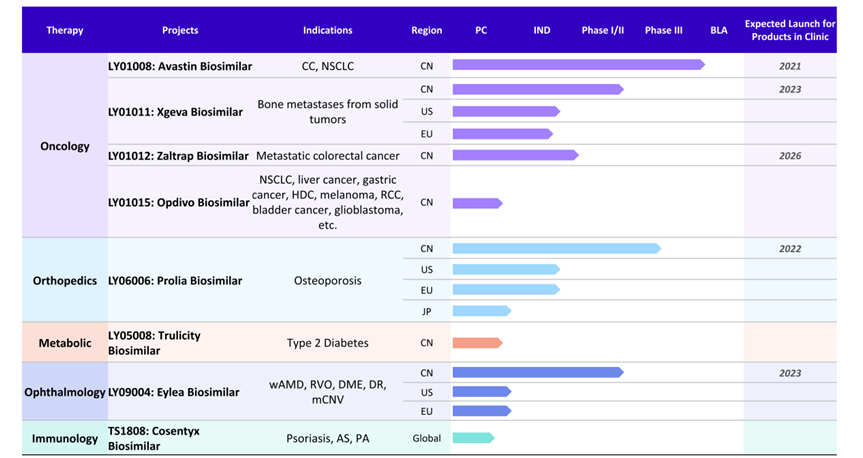 (Boan's Product Pipeline: Biosimilars)
Within Boan's pipeline of 8 biosimilar drugs, 5 biosimilar drug candidates have reached clinical stages, including 2 currently undergoing Phase III clinical trials (LY01008 and LY06006) and 3 currently undergoing Phase I/II clinical trials (LY01011, LY09004 and LY01012). Should the clinical stages proceed smoothly, these products are expected to receive market approval in the coming years. Provided that the relevant marketing authorizations are obtained, LY01008 and LY06006 are expected to be used for the treatment of Colorectal Cancer/Non-Small Cell Lung Cancer and Osteoporosis respectively, while LY01011, LY09004 and LY01012 are expected to be used for Bone Metastasis from Solid Tumors, Neovascular (Wet) Age-Related Macular Degeneration (AMD) and other indications and Metastatic Colorectal Cancer, respectively. Boan's 3 other pre-clinical biosimilar candidates are expected to be indicated for various tumor/oncological indications (LY01015), type II diabetes (LY05008) and psoriasis (TS1808). Strategically chosen to address currently unmet medical needs and indications with large addressable markets in both China and across the world, these products will enhance Luye Pharma's expansion efforts into different strategic therapeutic areas, including orthopedics and ophthalmology. These biosimilar product candidates also utilize therapeutic targets and mechanisms that have already been proven to be effective and widely used around the world through their respective comparable, originator drugs. Boan's pipeline of biosimilar and innovative products is highly complementary to Luye Pharma's existing core strengths in the central nervous system, oncology, cardiovascular and metabolism sub-segments, and its acquisition will assist Luye Pharma in maintaining its position as a leading pharmaceutical player in China.
Luye Pharma previously acquired 4 biological antibodies from Boan, namely LY01008, LY06006, LY01011 and LY09004, the biosimilars of Avastin®、Prolia®、Xgeva® and Eylea® respectively. Clinical progress with these drug candidates has progressed well since. The products are also in the IND stage in the U.S. and/or Europe and/or Japan.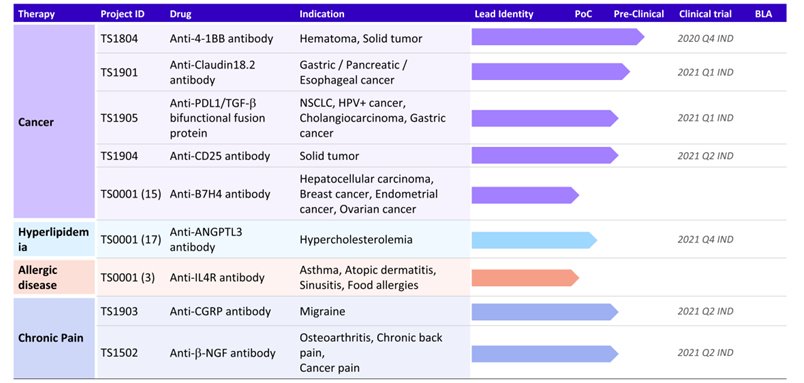 (Boan's Product Pipeline: Novel Antibodies)
In addition to biosimilar product candidates, Boan currently has over 10 innovative biologic product candidates in its novel antibody pipeline. These products have the potential to be best-in-class and/or first-in-class products in their respective product and/or indication categories. Provided that the relevant marketing authorizations are obtained, Boan's novel antibody product portfolio is expected to further broaden Luye Pharma's portfolio by acquiring a diversified set of product candidates with indications ranging from solid tumors to asthma. Luye Pharma believes that these novel antibody products have the potential to provide the company with numerous excellent growth opportunities in the longer term.
Enhancing R&D and manufacturing capabilities, maximizing synergy
Beyond Boan's pipeline, the acquisition will further bolster Luye Pharma's R&D and manufacturing capabilities and is able to contribute to Luye Pharma's discovery and development of the next generation of pharmaceutical products following the integration of Boan's proprietary technological platforms into Luye Pharma.
Boan holds intellectual property patents for human antibody transgenic mouse technology, phage display technology and nanobody platform, all of which Luye Pharma considers highly complementary to the company's existing technological capabilities, particularly for the R&D of future potential new antibody drug candidates. Boan has submitted 3 patent applications in China for protection of the preparation process in respect of its biosimilar products LY01008 and LY09004, over 20 patent applications in China in respect of its innovative products and owns 1 patent in relation to the preparation method of transgenic animal capable of expressing human antibody. These assets are valuable in reinforcing Luye Pharma's R&D capabilities and competitive advantages in innovative biopharmaceuticals.
Furthermore, the integration of Boan's team of research scientists and academics, as well as its end-to-end manufacturing platform will further strengthen Luye Pharma's existing R&D and manufacturing capabilities. In terms of supply chain resource integration, Boan's antibody manufacturing facility has a stable production capacity and strict quality control, able to meet the capacity requirements for both clinical manufacturing and future commercialization needs. Luye Pharma can elevate its biopharmaceutical manufacturing and quality management system by taking over Boan's antibody manufacturing platform and relative management team, resulting in further optimized manufacturing efficiency and reduced production cost. Meanwhile, Boan's manufacturing system will also be embedded into Luye Pharma's global supply chain system, enabling subsequent biopharmaceutical products to be sold to China and other markets around the world in a more efficient way.
Speaking of the acquisition, a management representative from Luye Pharma said: "The acquisition of Boan will further add to our biopharmaceutical product pipeline, especially with innovative biological antibody candidates, as well as enhance our existing R&D and manufacturing capabilities within this field. Given the complementary nature of Boan's products and technologies with those of Luye Pharma, we believe there are a number of areas in which the two companies are able to collaborate and achieve a substantial level of synergies, including in R&D, manufacturing, sales, marketing and more."
Luye Pharma conducts in-depth, long term planning for biopharmaceutical product pipelines in China and overseas through independent development and international collaboration. In the U.S., the company has established collaborations with cutting-edge biotechnology companies to co-develop next-generation innovative antibody products in immuno-oncology, continuously expanding new biopharmaceutical drug R&D and supply. Biopharmaceuticals will serve as one of Luye Pharma's business priorities, enhancing the company's core competitiveness as well as global product portfolios. Luye Pharma will be fully devoted to providing quality, innovative biopharmaceuticals with better accessibility to global patients.