 Adequate Career Opportunities for Female Professionals
Sammy Jiang
VP of Strategy & Business Development, Luye Pharma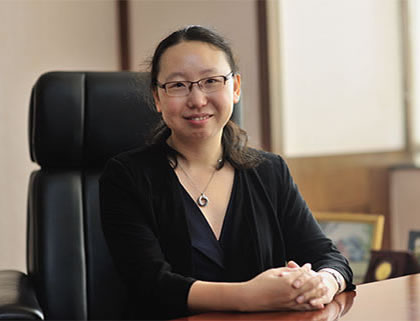 Sammy Jiang, a graduate of International Trade major, Department of World Economy, Fudan University, joined Luye Pharma in 1998.

What kind of company do you think Luye Pharma is?
Luye Pharma is a very unique company, with distinctive products and excellent design and management of product pipelines. The company is strong in independent research and development, and has employees who are professional, perfection-driven, and never shrink back before difficulties. As a matter of fact, this reflects the excellent strategic planning capability of the company. Since its establishment in 1994, the company has defined its core values, long-term vision and goals, and a ten-year development plan. Ever since then, the company has been committed to continuously developing, improving and innovating. Talent and technology have been two major pillars driving the company moving forward. With 25 years of persistence, the company has been propelled to with an accelerated speed. Meanwhile, I am happy to see the accelerating progress of its global development and satisfying results we have achieved. Everyone in Luye Pharma deeply understands our vision to become a leading global pharmaceutical company, and we follow the international standards in terms of every kind of work we do.

What do you think is your greatest accomplishment in Luye Pharma?
I have been working in Luye Pharma for 2 decades ever since I joined the company in 1998. And I think my biggest accomplishment is my career development pathway. With plenty room offered by Luye, I, as a female professional, grew from a fresh graduate to who I am today, a corporate executive. Luye Pharma is a learning-oriented organization, where I am greatly benefitted from cross-industry knowledge and my major limits in pharmaceutical industry has been made up.

How do you see Luye Pharma's corporate culture?
Luye Pharma has developed a very good corporate culture and employee care, so that I can fully enjoy the feeling of love and being loved, and I have the passion for work and the courage to assume responsibility anytime and anywhere. There is a Buddhist saying, "One leaf, one bodhi, one flower, one world." That means everything in the world, even as un-conspicuous as a grass or a tree, has its own story. In June 2009, I, as an veteran employee who worked for the company for over 1 decade, was awarded the "Gold Leaf", which is a symbol of my own story in Luye. I sincerely hope that I can write this story better in the future, to help the company grow better and stronger.